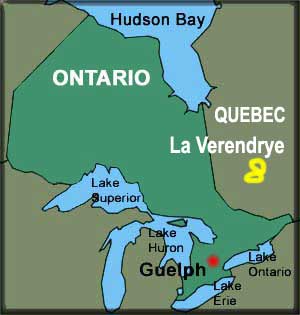 Réserve Faunique La Vérendrye is a large area with mixed fishing/power boat and canoe access which is managed by the Féderation Québécoise du Canot et du Kayak and SEPAQ.
The distance was a one day drive from Guelph (about half of previous trips).
Our plan was to do circuits 34, 30 and 33 in a figure 8 loop. This route included a mixture of large and small lakes and rivers and was to be a relaxed excursion.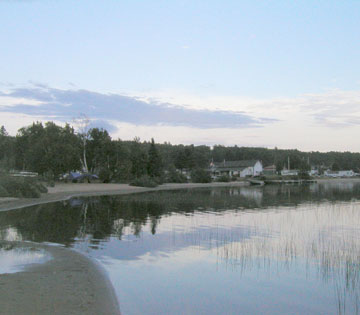 We checked in at Le Domaine, the main office for the area, on July 22. A weather system had moved in bringing wet, windy conditions. We hoped that it would blow through in the next few days. The extended forecast was marginal (20-40% chance of rain).
We spent the night at Le Domaine, which has most of the services you would expect, but is close to the highway, which made sleep difficult - due to traffic noise.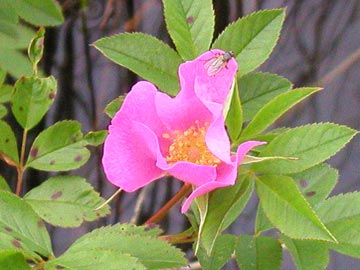 In the morning, we left our vehicle at La Rouche and put in on Lac LaRouche. The wind was favourable, so we sailed several kilometres. On a dull day, the flora really is a pick-me-up! After the portage from Baie Merleau to Lac Fada, we had a nice paddle through Lac Moran. Due to higher water levels, the 360m portage into Lac Quenelle was unnecessary.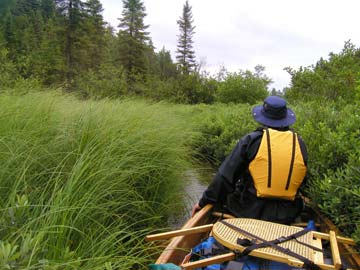 The water way was a 4 foot wide passage through a bog with many twists and turns - at times a bit tricky! A longer canoe would not have made it.
The portage from Lac Mitchell into Ruisseau Moran was, as well, unnecessary. The culvert had enough water in it to be navigable. Ruisseau Moran was a very circuitous passage. I think we did over twice the straight line distance as we twisted and turned through the bog. A very interesting section!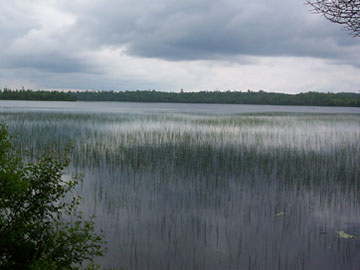 Night 1 - campsite on Lac Duman. A pretty good site near the exit into Ruisseau Moran. The weather had stayed dull and overcast all day and did not appear to be changing too quickly.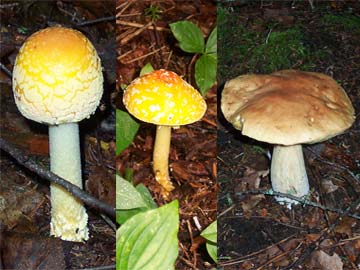 Some particularly good fungi were scattered around the campsite.
A positive side of wet conditions.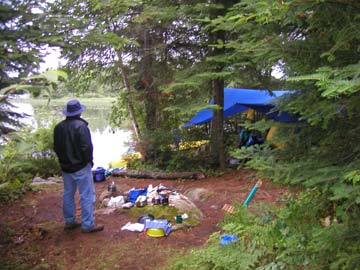 The campsite was well protected from the elements.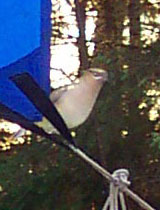 Night 2 - Grand Lac
Between rain showers, we were visited by a couple of hares and a cedar waxwing mother and baby.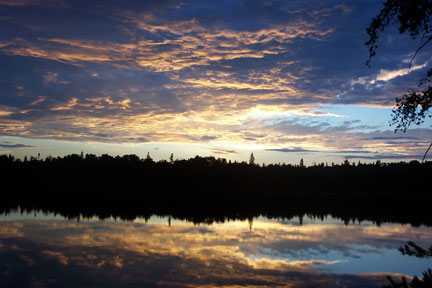 The upside of cloudy skies is a sunset worth keeping!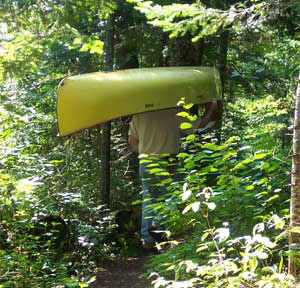 In general, the portages in this area are fairly easy.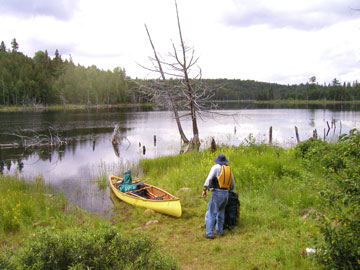 It was cloudy and cool most of the day. We watched a storm cell coming towards us in the late morning. Our calculations were 15 minutes off as to when the rain would hit. We were on Lac Longevelle when we had to get off the water (thoroughly soaked) and had lunch after changing into dry clothes.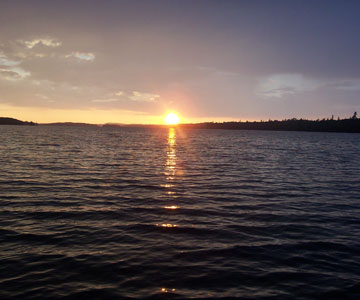 As soon as the cell went past us, we continued into the east end of Lac Canimina, where we set up camp for night 3.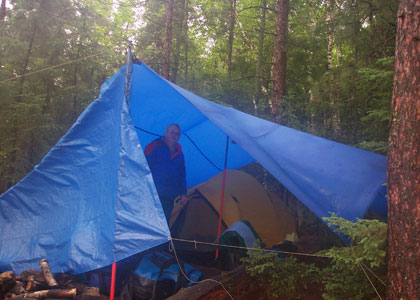 We paddled through Lac Nichotea and into Lac Nicholas, where the wind shifted to the south (against us!). After a fairly tough passage along the lake with good sized waves and wind against us, we pulled into a camp on the east side of the lake.

The next 36 hours were wet, windy and miserable. During the time that we spent on Lac Nicholas, the weather was unchanged. The storm cell seemed to circle us and every couple of hours, drop substantial amounts of precipitation accompanied by winds which were contrary to the direction we wanted to pursue.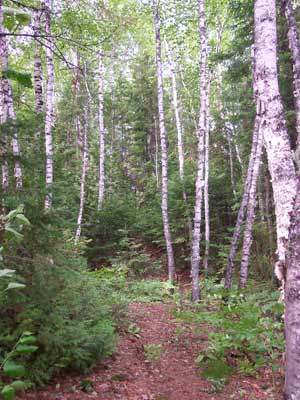 We discussed, at great length, our options. We could continue or retreat.

Our considerations were:
1) The weather was not going to change.
2) Over the next 24 hours, we had 4 portages 1100 m., 620 m., and two smaller ones.
3) This would put us in Lac Byrd, which was a large lake with the wind, if it continued as it had, could prove to be dangerous.
4) We had not bailed out of a trip due to weather before. On a number of occasions, the option was not available.

With a great deal of reluctance, keeping in mind "Discretion is the better part of Valour", our decision was to reverse course and pull out.

We got a break in the weather in the early morning and headed north on Lac Nicholas into Lac Nichotea.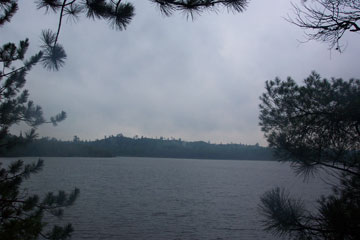 Lac Nicholas - nothing but gray skies!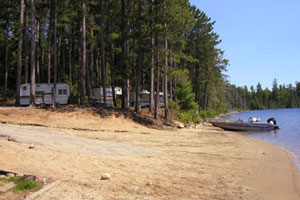 At a "road end", we eventually got a ride to retrieve our vehicle at La Rouche and drove to Le Domaine, where we checked the long range forecast. It appeared as if we had made the right decision - the projections were for more of the same conditions for the next 4 or 5 days.
We spent the night at Le Domaine and hit the road the next morning. It wasn't until we reached Ottawa (3 hours later), that we saw blue sky.

The planned 10 day trip was shortened substantially.

Hopefully, we will return to the area under more favourable conditions. La Verendrye is a great area for any level of tripping experience!