For a few years, I have been trying to find out about this canoe's past. In particular, when it was built.
The photo to the right is of half of the stem deck, which was not in good shape at all. In the right light, I could see some detail in the lettering and colour. I deduced, from what I could see, that the shield (see right) was the design.
In their website, dragonflycanoe.com gives some information about the Canadian Canoe Company, but there doesn't seem to be any indication of the possible year of construction. The company apparently went out of business in 1961.

Please Email me if you have any ideas.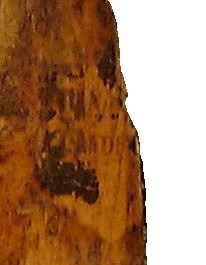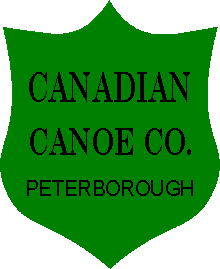 The following information may help you help me!

Serial Number #50 4383 (According to Dragonflycanoe.com, this was only known as a "Special Canvas Canoe".)

Length: 16' 6"

Beam: 31 3/4" to the outside of the planking, 32 3/4" to outside of outwale at centre thwart

Depth: 13 1/2" from top of gunwale to inside planking at centre thwart

Planking: white cedar 1/8" or 5/32" X 4"

Ribs: white cedar 3/8" X 1 5/8", no taper, spaced 1 5/8" apart, cant ribs 4" X 5/32"
Stems: ash, truncated V shape 3/4" X 3/4", tapered to 1/4"

Keel: not attached, probable shoe keel (approx. 2" X 3/4") with screw holes staggered every second rib approximately 1/2" from centre line, brass countersunk washers

Gunwales: cedar or spruce open (rib tops visible), tapered to 5/8" at stems, Inwale 1" X 7/8" tapered on outside to 3/4" at top, Outwale 1 3/8" X 7/8", tapered to 3/4" (11/16 " in some areas) at the top on rib side, 1/4" rabbet over planking and canvas,

Thwarts: maple?, 69" from stem and 66" from stern (could have been moved in a repair) 1 3/4" X 3/4" with slight taper at quarter to 11/2", Middle - 2 1/4" X 5/8" at ends, 2" X 7/8" at middle, tapered to 1 3/8" X 7/8" at quarters, flat on bottom
Decks: probably spruce or cedar, set inside inwales, 12" long, 4 3/4" at widest, tapered to point, bevelled under curve and slight bevel along sides

Tumblehome: approximately 3/4" to 1" at centre thwart

Tacks: brass, flat head, 3/4"

Nails: copper, 1" (some galvanized - added later)

Seats: non-existent

Weight: unknown

Source: Tim Dyer at White Squall, Parry Sound, Ontario

Many thanks, Tim & Jenn - It is a wonderful canoe!!