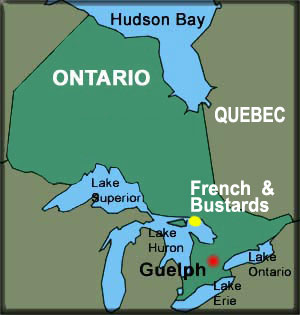 Due to low water levels throughout most of Northern Ontario this year, we decided to opt for the inflatable motorized method and stick to "big water". We knew that the French River Delta and Bustard Islands would have adequate water levels.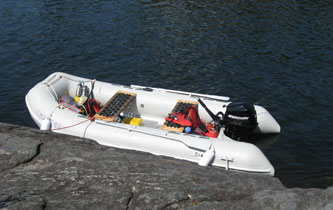 We left Guelph at about 10:30 am on August 13, and arrived at Key River around 4:00 pm. Dokis Island was to be our base camp. The journey from Key River to Dokis Island was a bit hairy at times due to the lack of light caused by a grey sky. We had to watch for rocks, etc. The campsite that we made on Dokis was quite good - flat, great view, and sheltered. We had some rain that night, which cleared by morning.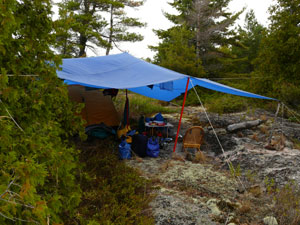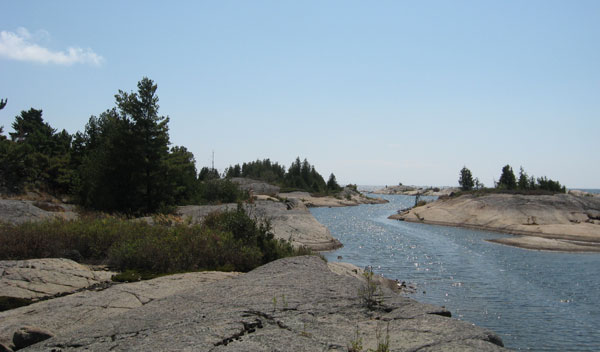 Near the Southwest corner of Dokis Island. Nice view from camp! Outside the Park, so no fees.
August 14
We went up the Pickerel River as far as we could with a non-portageable boat. Fishing along here yielded nothing.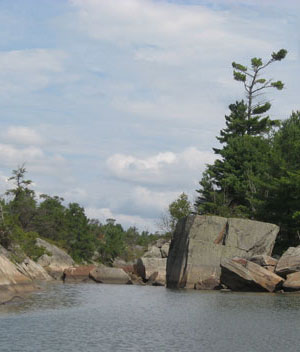 The passage was pretty tight for the boat.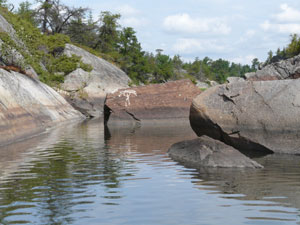 Several twists and turns through lagoons.
On our way back to camp, big waves hit us just before the Dead Island channel.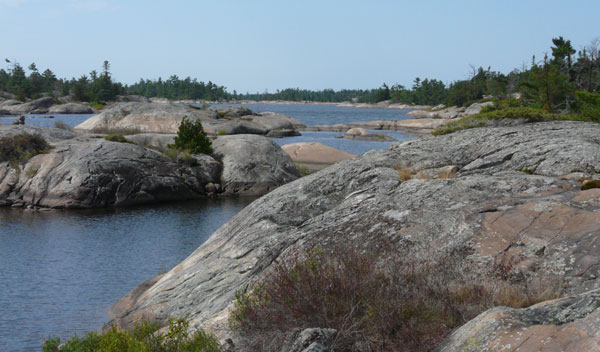 After lunch, motored up to the Bass Lake Tramway on the Eastern Outlet of the French River.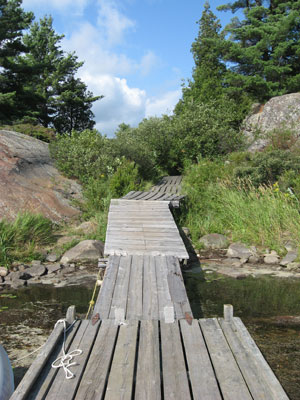 A typical Georgian Bay sunset.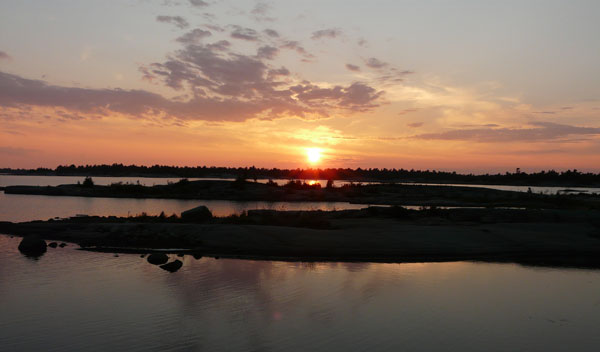 August 15 - The Bustards
This one of the "bucket list" places. Our passage was calm over shallow water (10-20ft. deep).
A cormorant greeted us along one of the channels.


There are quite a few buildings on the east end.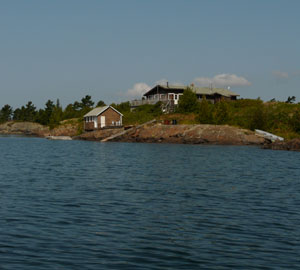 An interesting warning!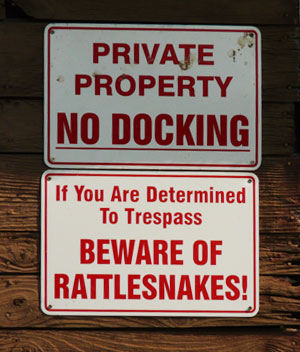 The lighthouses are on rocky barrens at the western tip of the island group.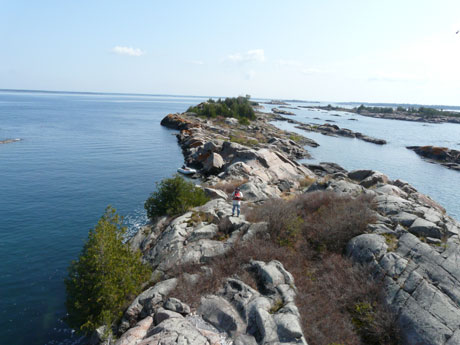 The concrete pad once used for a keeper's cabin is still there.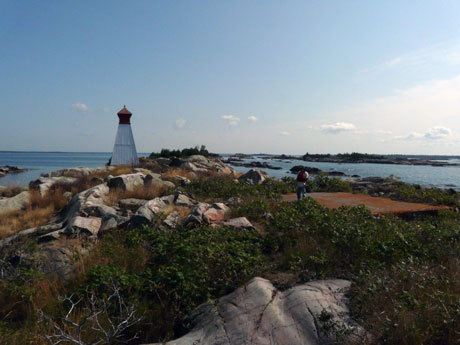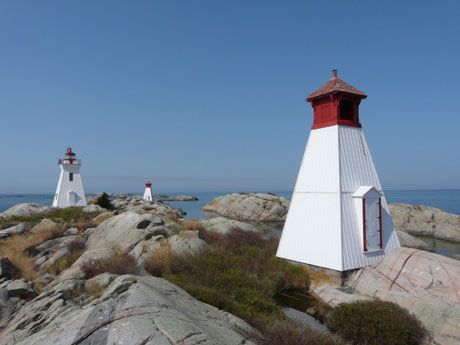 The lighthouses were in pretty good shape even though they are really exposed to the elements.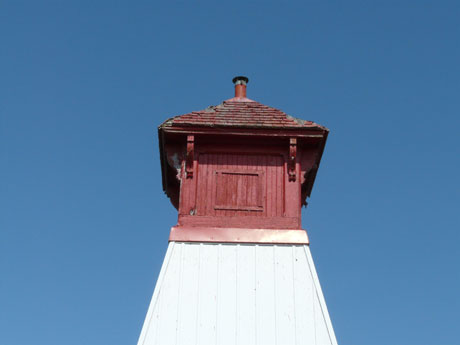 After the Bustards, we went up the French River Main Channel to Dalles rapids.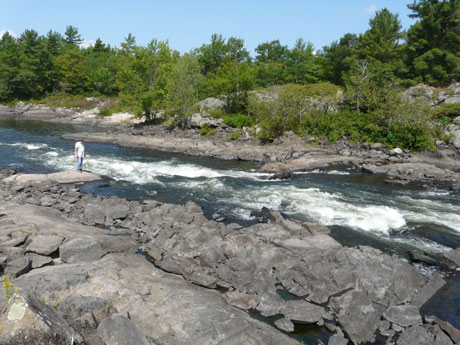 It was interesting to see the "other side" of the rapids as opposed to what we had seen in previous trips from the upstream side on other trips.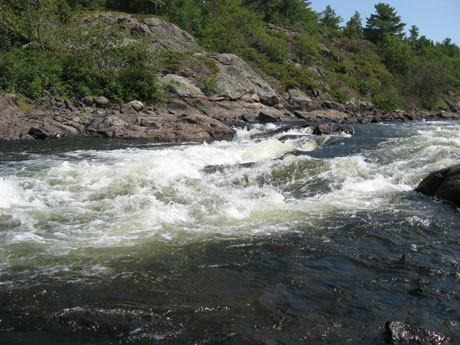 Fishing attempts below the rapids bore no returns.


There is still evidence of the large logging endeavours in this area. "Tug" boilers can be seen along the Main Channel.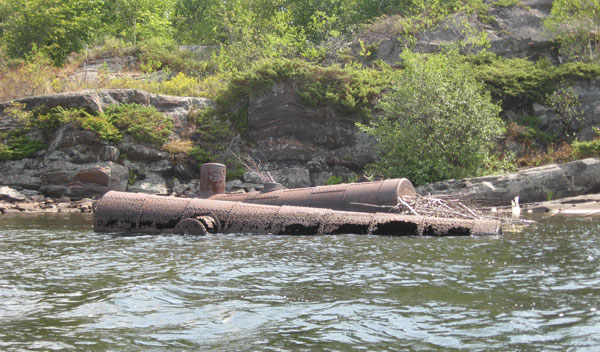 August 16
Based on the weather reports that we heard and our own assessment of the sky, we decided to pull out. We packed up, went to Key Harbour and loaded the gear and boat into the truck. We drove to Killarney to check out the lighthouse. Since the Park was full, we camped at Roche Rouge Campgrounds. The rain came at supper time and with some wind, lasted all night.

August 17
We ate breakfast at the Gateway Restaurant in Killarney and went to have a look at the South Channel lighthouse. It was very windy with the waves at about 1.5 m.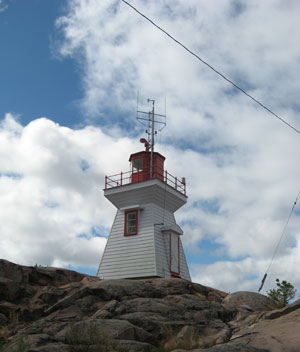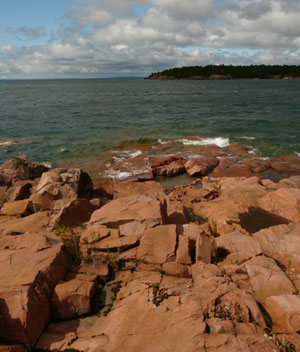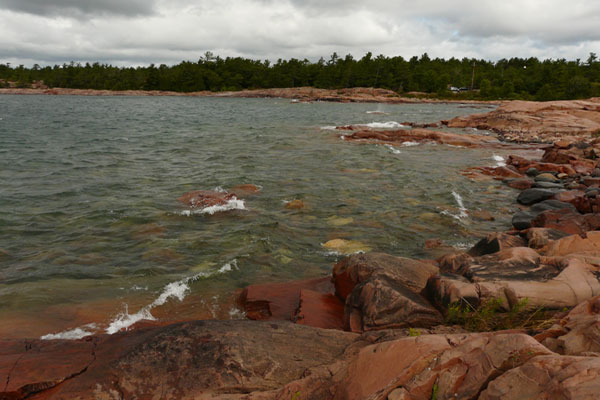 On the way home, we stopped in near Parry Sound where a Brown Trout cured our "lack of fish week".