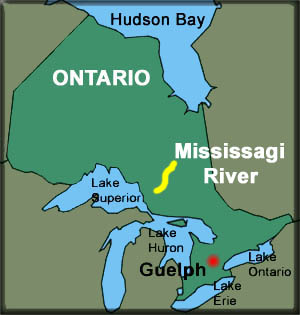 After approximately 10 hours on the road, we arrived at the Aubrey Falls Trading Post. The owners were to ferry us up to our start point on the Mississagi River with the agreement to leave our vehicle at the Aubrey Falls Dam for pull out since the road into Rouelle Landing (Peshu Lake Road) was too rough (their information, not ours). Since we wanted to avoid long stretches of lake travel, we asked if was possible to get to Aubrey Falls through Rimrock Creek after portaging over a dam at Rouelle Landing. We were told by the driver that it was okay.

The next morning, during our trip up to the put-in where the river crosses the road from Ramsey, we passed through areas of clear cut that stretched as far as the eye could see.
Not an auspicious beginning!

Our intentions were to do the section of the river from Spanish Lake to Rouelle Landing (on Rocky Island Lake) in about 8 or 9 days, a distance of about 160 km (100 miles). According to our research, the only major obstacles were portages, one of which was in excess of 1 km in length.
Over the next 9 days, we had a great time canoeing in a variety of environments which went from small streams to marsh and expansive lakes.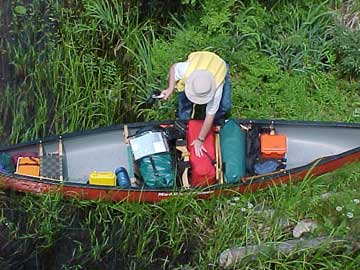 The weather generally cooperated with only a couple of major downpours. We met only nine people over the time that we were on the water and seven of those were in one group.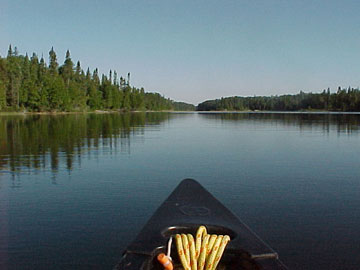 The first day was relaxed river travel with four short portages (maximum 500m).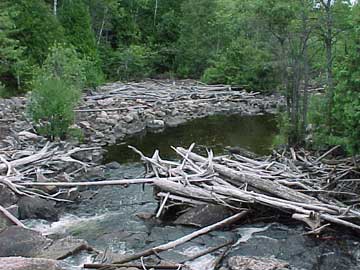 One of the portages was necessitated by a dam.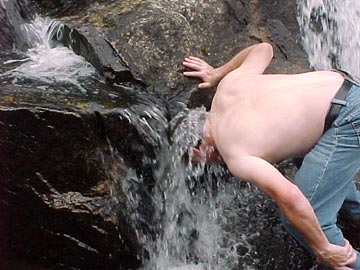 The upside of this was the presence of a "shower"!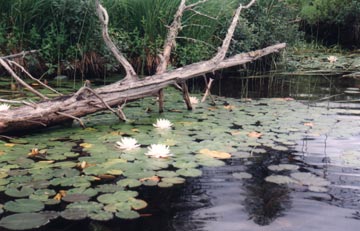 Along a number of the quiet stretches, water lilies were in bloom. We paddled through Spanish and Bardney Lakes and across the divide between the Atlantic and Arctic watersheds. One of the deluges was during our transit of the 1 km portage between Bardney and Mississagi Lakes.

This made things a bit uncomfortable for a while. After that, it was a relief to set up camp and dry off!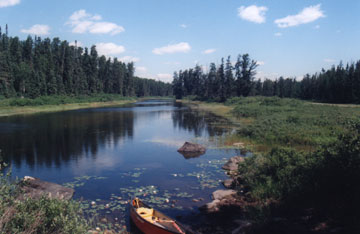 One of the aspects of canoeing Northern Ontario is that the serenity in one section is broken by the natural activity of the next. You are constantly surprised.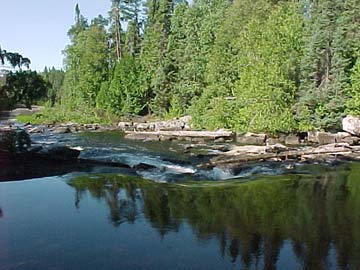 It seems as though no matter what river we are on, there is a section which, by name, evokes the dark side! This trip's rendition was Hellgate Falls. The approach was calm ...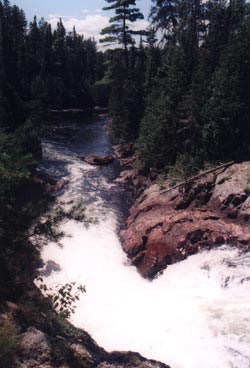 ... but just around the corner, the name certainly made sense - a vertical drop of approximately 6m (20 feet).

The frittilaries on the Joe-Pye weed seemed to bely the danger (at least to foolhardy humans) that lay not 5 metres away.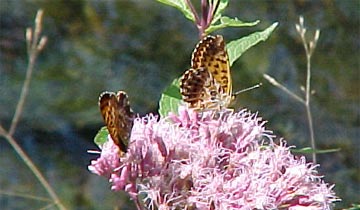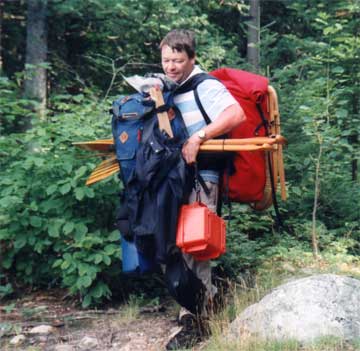 At this point in the trip, our gear/food weight was decreased sufficiently enough to portage in two goes.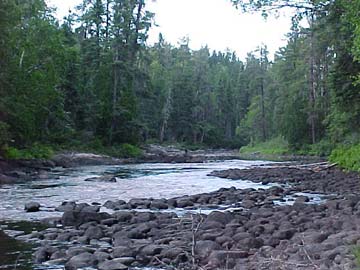 After a 700m portage around Hellgate and a short paddle, which included running several 'non runnable' rapids (according to the literature).
It was time to relax at the "Hilton".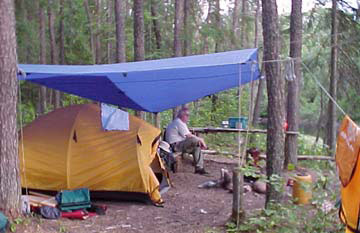 This was one of those campsites which have been around for a long time. It was clean, flat and bug free, with a great view.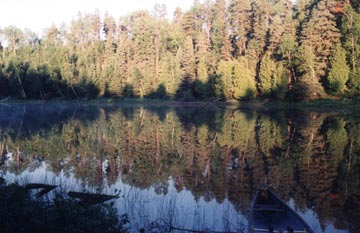 No artist could reproduce the textures and colours created by nature!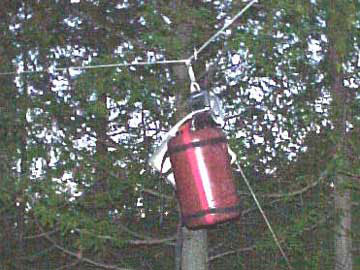 Over the past three days, as we portaged, we gorged ourselves on wild blueberries. Their presence and that of some telltale bear scat convinced us to sling our food barrel about 3 metres above ground for the nights.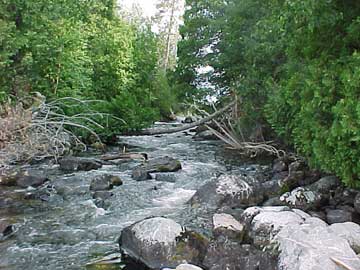 Within a couple of kilometres, the river changes from a raging torrent to almost a "babbling brook". This brook still forced us to portage. Thankfully, there weren't too many boulder fields reminiscent of the Spanish River last year.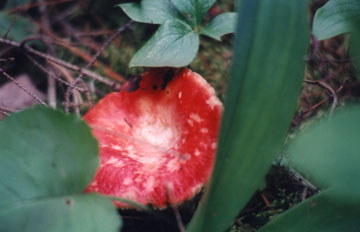 Along the portages, the rain had helped the fungal aspects of the forest, as this Russula Lepida shows.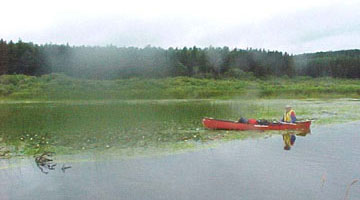 It took us a day to negotiate a large marsh. Luckily the main channel did have some current. After days of a spacer on only a kilometre away at most, it felt strange to be able to see for such a long way into the distance unrestricted by outcrop or cliff.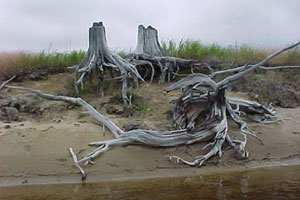 There has been some cutting of the cedars and spruce as shown here. I am always amazed at the contorted root systems.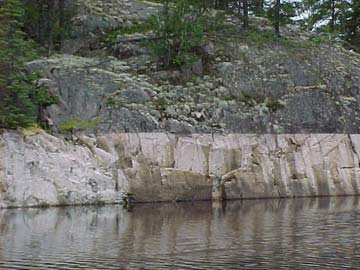 The water level at this point is influenced by the Aubrey Falls Dam, some 20 km away. According to the locals, a fluctuation of 6 - 8 m is normal. That must play havoc with the fish population!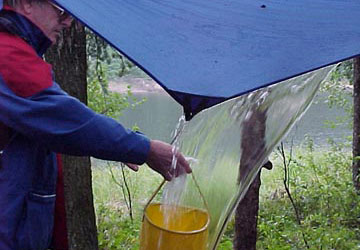 Another major deluge occurred as we approached Rocky Island Lake at about 4 pm. We saw it coming, got off the water and put the tarp up in time to harvest some rainwater.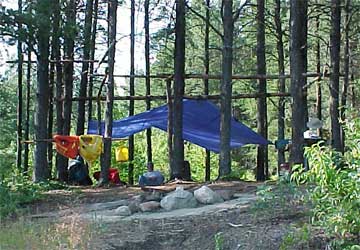 The sun came out and within an hour or so, everything was dry again.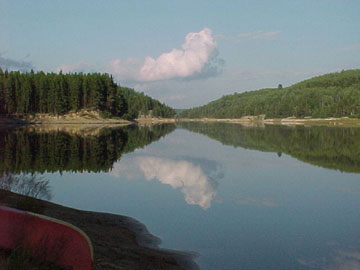 It's hard to believe that an hour ago we could not see across the river. I guess the old adage that says "If you want the weather to change, wait an hour" is true.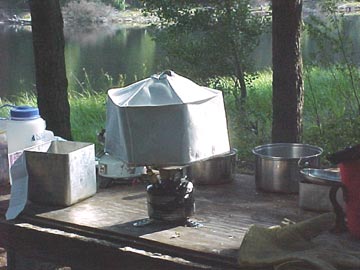 The outback oven was used to make blueberry muffins in celebration of our missing the storm and of our finding this well used, but clean campsite at the right time.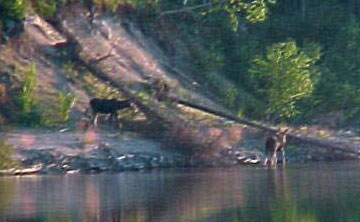 A bit after suppertime, as the sun was setting, we heard a crashing sound from across the river. About 80m away from us was a cow moose and her calf. We watched them wander the shore for about half an hour.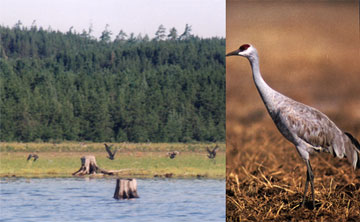 At and shortly after dusk, a raucous whooping was heard from around the bay. The next morning, as we paddled through the flats approaching Rocky Island Lake, we saw the authors of the noise - sandhill cranes. These birds stood about 1.5m (4+ft) tall.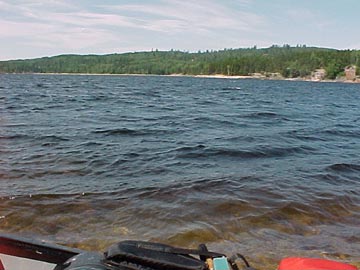 Rocky Island Lake is long and windswept. With the way the weather systems had been going through over the past few days, we knew that it would be a tough pull. We were not wrong. We island hopped our way across and rested at each one. The waves and the wind seemed to be at odds, making the paddling dicey at times.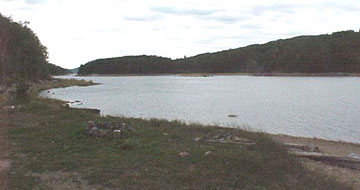 We finally arrived at Rouelle Landing, a put-in for fishermen in the middle of nowhere. We had been told by the staff at the Aubrey Falls Trading Post that we could portage past an earthern dam here and continue down Rimrock Creek so that we could avoid the rest of Rocky Island Lake. Since we accepted the word of a local, assuming that he was correct, we pulled in here. When we arrived at Rouelle Landing and checked the dam there, we found that below the dam there was a stumpy, muddy bog which stretched for at least a kilometre before it turned a corner. There was no open water at all.
Our choices at this point were:
1) Walk out to Aubrey Falls (approx. 16 - 18 km)
2) Camp and wait for someone to come in to the landing
3) Hope that the pickup trucks and trailers parked at the landing meant that there would be someone returning from fishing in Rocky Island Lake.
4) Get back in the canoe & backtrack East to a point where we could turn West and continue to battle the wind and waves for another 15 - 20km.

Luckily, 3) happened within a couple of hours and we were able to get a ride to Aubrey to pick up our vehicle.
Had there not been anyone on the lake fishing that day, we would have faced a day long hike out. This situation would not have happened if we had been given correct information by our driver.
I bring this situation to your attention in order to reinforce the notion of working with accurate information given by reputable people.
You should not have to trust to luck for things that can be controlled. There is enough luck involved in tripping already!